The Future is Green at Enviro Views
Taking over your family's successful 35-year-old landscaping business can be exciting, rewarding and stressful all at once. Armando Vega and his brothers Rene and Tony at Enviro Views Landscaping Maintenance and Tree Service are more than up for the challenge and growing with a new zero-emissions service. Enviro Views is located in Richmond, but they service the greater Bay Area from San Francisco to Brentwood, Vallejo and Oakland.
Here is our interview with Armando Vega, CEO of Enviro Views.
What Prompted You to Start a Battery-Powered Service?
There are a variety of factors but what really prompted me to start our zero-emission division was actually the pandemic.  Because so many people are working from home, I would come home during the day around lunchtime to see my wife who is a realtor working from home, and my kids who are both distance learning.  All I could hear were the leaf blowers from the other landscapers in my community working down the street. But you can hear them through the closed windows in our home.  I asked my wife is this what you guys hear all day, and I got to thinking, well this is basically what we sound like to our clients. 
Various property managers confirmed the leaf blower noise is their number one complaint from the Bay Are Homeowner Association Communities. This basically pushed me to hurry-up and get our zero-emission service launched. 
What Expectations Did You Have Before Adding a Battery-Powered Service?
Basically, what we were concerned about is do we have enough battery juice to allow us to do all our daily tasks. During the first week my crew leader was running low on battery power, so I called Brian at Gardenland and he told me that we had enough run-time but needed to change how we use the tools.  You have to change the way you actually use the battery-powered blowers and not always go full throttle on the battery. After some retraining, our crew had enough battery-power to last the whole day.
I knew our customers would appreciate the low-noise and zero-emission service, but I didn't think the word-of-mouth marketing would spread so fast, so our demand is growing.
Were There Any Surprises After You Added Battery Power Equipment?
I was surprised that my team adapted to using battery-powered tools quickly; there was hesitation at first and they kept a gas-powered blower on the truck as a back-up. I had to remove it and told them they had to use the cordless leaf blower. Now the crew is very efficient after learning how to manage the battery charge throughout the day.
Enviro Views outfitted their new eco-service team with a Mean Green WBX-33HD lawnmower, a STIHL BGA 200 leaf blower, RMA 510V self-propelled lawnmower, FSA 90R line trimmer, a HSA 94T hedge trimmer and three STIHL AP 3000 L backpack batteries and two AP 300 S batteries. They also bought a Towa PDM-20-8 smart charger and customized a trailer to haul everything around.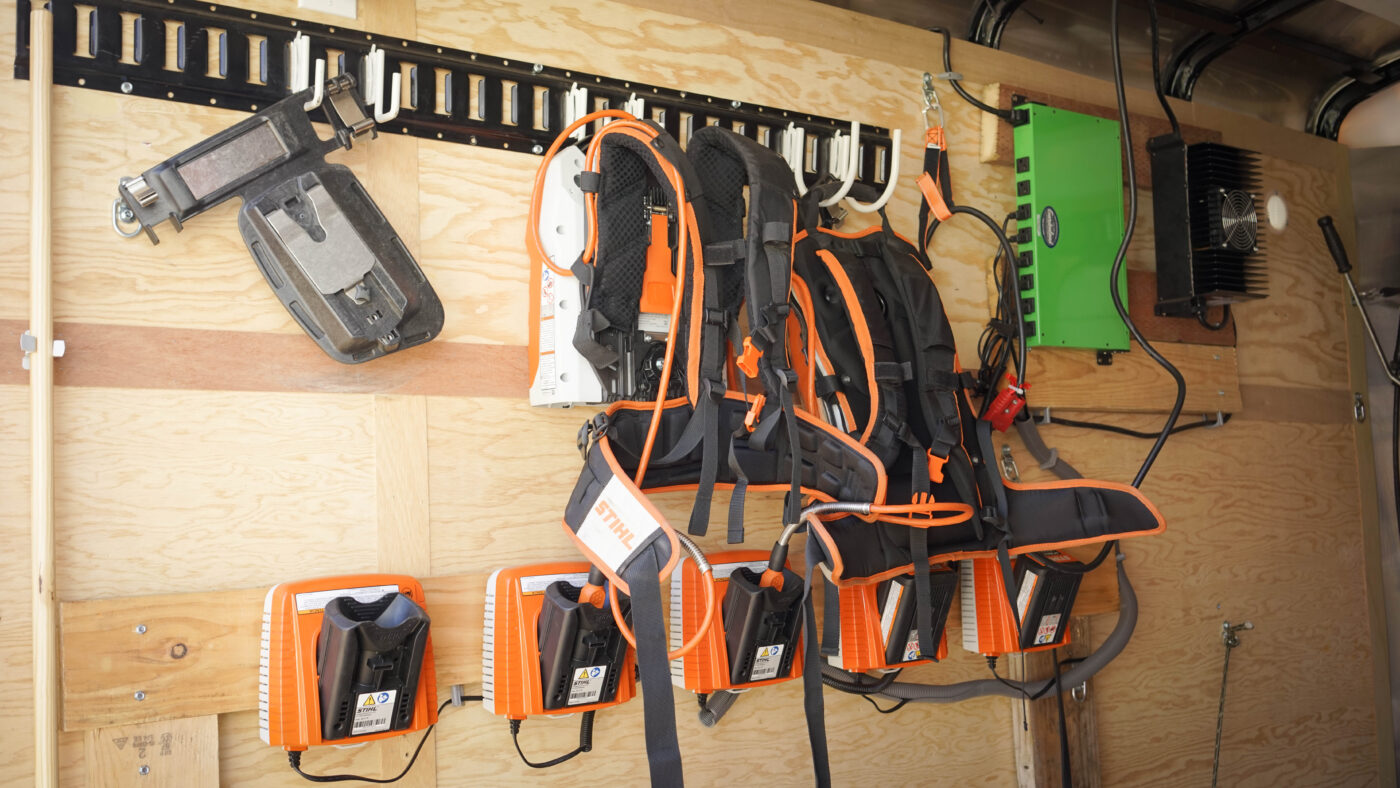 Tips for Setting-up a Custom Trailer for Battery-Powered Tools
I bought this enclosed trailer that was an empty canvas. I just started positioning where I mounted the tools on the wall by how our crews would use then from first to last at a job site. Starting with the battery-powered lawn mower, then the line and hedge trimmer, ending with the leaf blower.
I put myself in shoes of our crew and wanted to create fast access to the tools without stumbling into and damaging other equipment. I try to be as organized as possible and it was a learning process that took maybe three different layouts to get to the finished set-up.
The Towa smart charger runs tightly into all the other chargers and is clean and out of the way. I like how thin that charger box is and how it neatly fits on the wall.
How Was the Set-up of the Towa Smart Charger?
Setting-up the power box was simple. Basically, I had an electrician install an outlet on the outside of the trailer so when I park the trailer, all I have to do is connect the extension cord to the outlet on the trailer. I read the TOWA PDM installation instructions, but all I had to do was mount it on the wall plug it in.  That was pretty much it, and every day we make sure all the batteries are secure in the chargers and all the charging lights were on the smart charger. It's really simple.
Plug and Go with the Towa Smart Charge
When you think about it, you get that peace of mind knowing that all your equipment is charging and you're not going to trip the circuit breaker. Every morning all your equipment is going to be fully charged. I always tell my group leaders to stay a few seconds to make sure all the lights on the smart charger are lit-up ready to charge.
What Trends Do You See in the Future for the industry?
From what I'm hearing now, is that more cities will pass a low-noise ordinance because more people are working more from home, and they also want to be more environmentally friendly and reduce their carbon footprint. This trend will continue to grow.
The cost to purchase commercial quality battery-powered equipment is still expensive, and I would expect the costs to come down in the future with better technology.
Is There Anything Else You Want to Share?
I just want to say "hello" to all the landscapers in the Bay Area, and I know you guys are doing your job out there, especially with this pandemic. You hear a lot of praise and thanks to the first responders and rightly so; you know they're taking care of people in the hospitals non-stop.
But I've never seen them thank the landscapers who are also out there working long hours while wearing a mask. So, I just got to give a shout out to everybody in the industry and for our vendors who have our back whenever we have a break-down. I just want to say thank you for everybody.